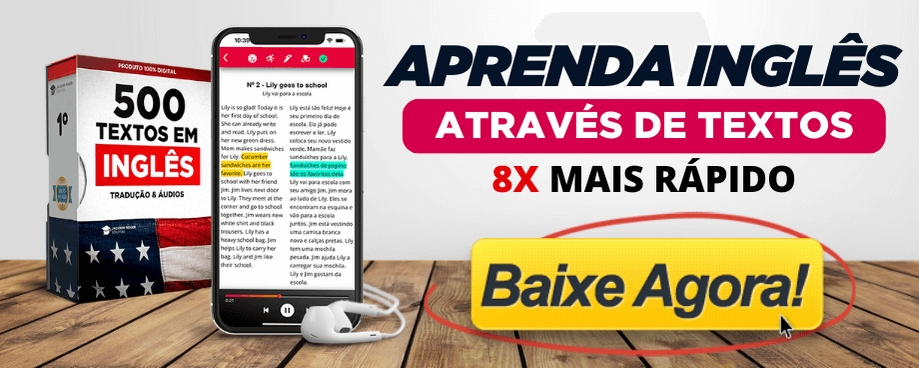 Exemplos e significado do verbo "Wake" em inglês.
A palavra Wake em inglês significa "Despertar", Acordar. "Wake" é verbo irregular na língua inglesa e o passado simples é escrito como (Woke). Lembrando que o significado contextual desta palavra pode varia dependendo da frase.
Exemplos de "Wake" em frases em Inglês.
Did I wake you guys?
Eu acordei vocês?
I had to wait for Tom wake up.
Eu tive de esperar o Tom acordar.
Tom is never going to wake up.
Tom nunca vai acordar.
Tom is trying to wake Mary up.
Tom está tentando acordar Mary.
Tom, wake up.
Tom, acorde.
Did I wake you?
Eu te acordei?
Go wake Tom up.
Vá acordar o Tom.
I wake up early.
Eu acordo cedo.
Did I wake you up?
Eu te acordei?
Don't wake him up.
Não o acorde.
Tom wakes up early almost every morning.
Tom acorda cedo quase todas as manhãs.
My grandfather wakes up early.
Meu avô acorda cedo.
He wakes up early.
Ele acorda cedo.
Thank you for waking me up.
Obrigado por me acordar.
He has trouble waking up on time.
Ele tem problemas para acordar na hora.
Tom finally woke up.
Tom finalmente acordou.
Tom woke up at 2:30.
Tom acordou às 2:30.
You should have woken me up.
Você deveria ter me acordado.
Conjugação do verbo irregular Wake.
Infinitivo: Wake
Terceira Pessoa: Wakes
Forma no Gerúndio: Waking
Passado Simples: Woke
Passado Particípio: Woken
Outras informações:
Transcrição Fonética de Wake: /ˈweɪk/.
Wake possui 4 letras.
Palavras relacionadas com Wake:
Shake
Shewmake
Shoemake
Shortcake
Shrake
Shumake
Leia também: O que significa walk em inglês?
Se eu te ajudei com este material sobre o que Wake significa em inglês deixa o seu comentário, ou se você já entendia o sentido da palavra.