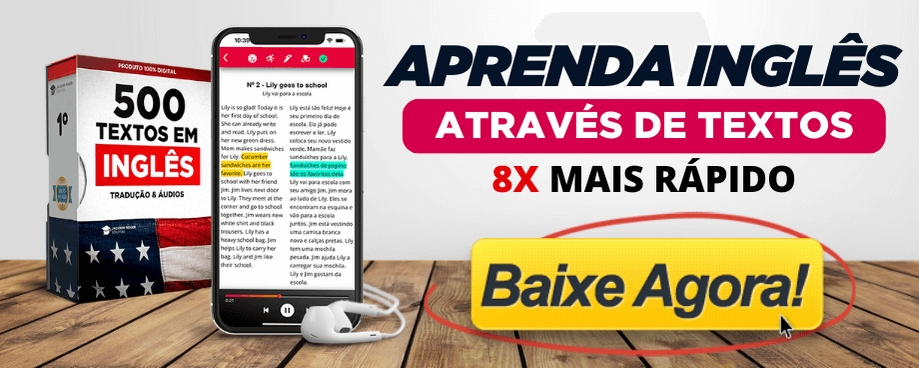 Significado de "Look up" em inglês:
"Look up" é um Phrasal Verb e significa em inglês "Admirar", "respeitar alguém", "olhar para cima" ou também pode significar "procurar por algo" ou "fazer uma pesquisar". A forma no passado simples deste Phrasal Verb (Look up) é escrita como: Looked up. O significado de "Look up" pode mudar dependendo do contexto.
Exemplos de "Look up" em frases:
What did he look up?
O que ele estava procurando?
Don't look up.
Não olhe para cima.
You look upset.
Você parece zangado.
Look up at the sky.
Olhe para o céu.
I'll look up the number for you.
Eu vou procurar o número para você.
We all look up to our grandfather.
Todos nós respeitamos nosso avô.
Look up the word in the dictionary.
Veja a palavra no dicionário.
Look up the number in the phone book.
Procura o número na lista telefônica.
He looked up the word in the dictionary.
Ele procurou a palavra no dicionário.
She looked upset as she read the letter.
Ela pareceu ficar perturbada ao ler a carta.
I looked up the address.
Eu procurei o endereço.
Conjugação do Phrasal Verb:
Infinitivo: Look up
Terceira Pessoa (Singular): Looks up
Gerúndio (ING): Looking up
Passado Simples: Looked up
Passado Particípio: Looked up.
Outras informações:
Transcrição Fonética de Look up: /ˈɫʊk/ + /ˈəp/.
Look up possui 6 letras.
Palavras relacionadas com Look up:
Staup
Stirrup
Stoup
Stroup
Subgroup
Sukup
Leia também: O que significa loose em inglês?
Se você apreciou este artigo sobre o que Look up significa em inglês comenta abaixo, ou se você já conhecia este vocábulo.