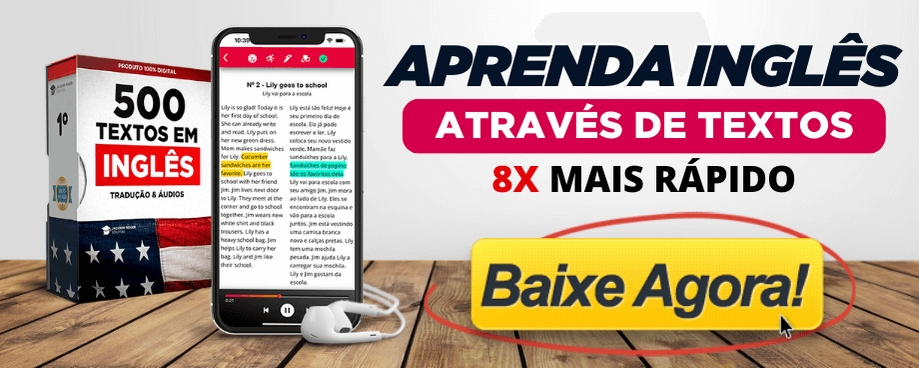 Significado de "Look after" em inglês:
"Look after" é um Phrasal Verb e significa em inglês "Cuidar" de algo ou alguém. A forma no passado simples deste Phrasal Verb (Look after) é escrita como: Looked after. O significado de "Look after" pode mudar dependendo do contexto.
Exemplos de "Look after" em frases:
Don't worry about Mia, she can look after herself.
Não se preocupe com a Mia, ela pode cuidar dela mesma.
Her duty was to look after the children.
Sua responsabilidade era cuidar das crianças.
Look after yourself.
Cuide-se de si próprio.
We'll look after Tom.
Nós vamos cuidar de Tom.
I had to look after you.
Eu tive que tomar conta de você.
I look after my grandfather.
Eu cuido do meu avô.
Would you look after my cat?
Você cuidaria do meu gato?
I will look after this child.
Vou cuidar desta criança.
Please look after my luggage.
Por favor tome conta da minha bagagem.
Who will look after the baby?
Quem cuidará do bebê?
Tom looked after my dog.
Tom cuidou de meu cachorro.
Tom looked after the baby.
Tom cuidou do bebê.
The twins looked after the baby.
Os gêmeos cuidaram do bebê.
Tom looked after my dog while I was away.
Tom cuidou do meu cachorro enquanto eu estava fora.
Conjugação do Phrasal Verb:
Infinitivo: Look after
Terceira Pessoa (Singular): Looks after
Gerúndio (ING): Looking after
Passado Simples: Looked after
Passado Particípio: Looked after.
Outras informações:
Transcrição Fonética de Look after: /ˈɫʊk/ + /ˈæftɝ/.
Look after possui 9 letras.
Palavras relacionadas com Look after:
Bluster
Boelter
Bolster
Bolter
Bonecutter
Bookwalter
Leia também: O que significa look around em inglês?
Se você apreciou este artigo sobre o que Look after significa em inglês me conta nos comentários, ou se você já conhecia este vocábulo.