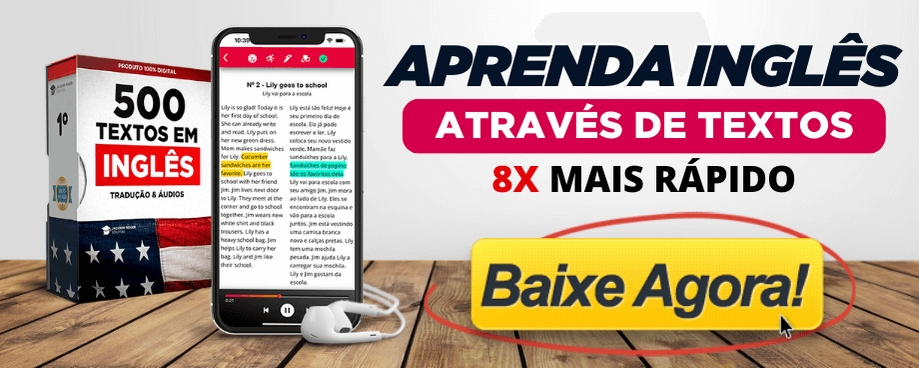 Significado de "Go through" em inglês:
"Go through" é um Phrasal Verb e significa em inglês "Experimentar algo desagradável" ou "atravessar alguma coisa". A forma no passado simples deste Phrasal Verb (Go through) é escrita como: Went through. O significado de "Go through" pode mudar dependendo do contexto.
Exemplos de "Go through" em frases:
Did you go through my drawers?
Você revirou as minhas gavetas?
Go through the market.
Atravesse o mercado.
You must go through with your plan.
Você deve seguir com seu plano.
If you back out, the deal won't go through.
Se você desistir, não se fará o negócio.
Love is like the measles. We all have to go through it.
Amor é como sarampo. Todos nós temos de passar por ele.
The prisoners would have to go through yet one more hardship.
Os presos teriam que passar ainda por outra provação.
The opening in this sweater is small and my head won't go through.
A gola desse suéter é estreita, minha cabeça não passa.
When we travel, we always go through the same argument about where to stay.
Quando viajamos, sempre passamos pela mesma discussão sobre onde ficar.
I graduated, and till this day I'm so thankful that I had to go through those experiences .
Eu me formei, e até hoje sou muito grato porque tive que passar por todas aquelas experiências.
I can't imagine what you've gone through.
Eu não consigo imaginar pelo que você já passou.
Conjugação do Phrasal Verb:
Infinitivo: Go through
Terceira Pessoa (Singular): Goes through
Gerúndio (ING): Going through
Passado Simples: Went through
Passado Particípio: Gone through.
Outras informações:
Transcrição Fonética de Go through: /ˈɡoʊ/ + /ˈθɹu/.
Go through possui 9 letras.
Palavras relacionadas com Go through:
Cavanaugh
Cavenaugh
Chesebrough
Clabaugh
Clabough
Claybaugh
Leia também: O que significa go under em inglês?
Se você gostou deste material sobre o que Go through significa em inglês não esqueça de curtir e comentar, ou se você já sabia o significado.