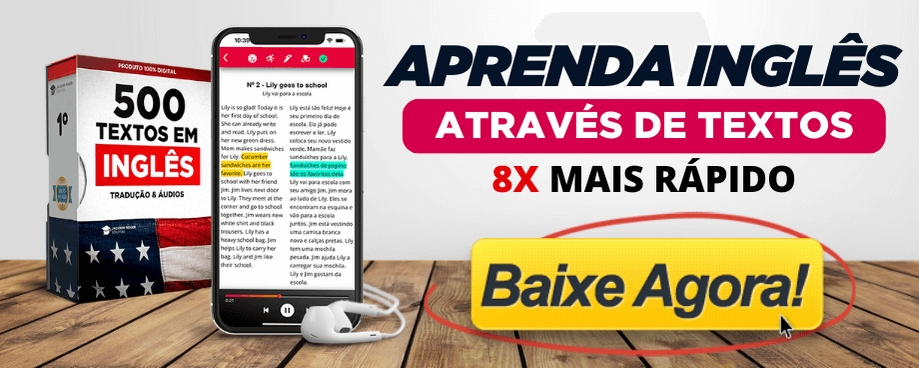 Exemplos e significado do verbo "Fight" em inglês.
A palavra Fight em inglês significa "Lutar". "Fight" é verbo irregular na língua inglesa e o passado simples é escrito como (Fought). Lembrando que o significado contextual desta palavra pode varia dependendo da frase.
Exemplos de "Fight" em frases em Inglês.
Doctors suggest drugs to fight diseases.
Médicos sugerem drogas para combater doenças.
He believed that blacks could win their fight for equal rights without violence.
Ele acreditava que os negros poderiam vencer a luta pelos direitos igualitários sem violência.
Did you have a fight with Tom?
Você brigou com Tom?
I don't want to fight anymore.
Eu não quero mais lutar.
Tom and I used to fight a lot.
Eu e Tom brigávamos muito.
Tom and Mary fight constantly.
Tom e Mary brigam constantemente.
Tom had a big fight with Mary.
Tom teve uma briga feia com Maria.
We got into a fight last week.
Entramos numa briga na semana passada.
I fight badly.
Eu luto mal.
We fight a lot.
Nós brigamos muito.
Tom and Mary have been too busy fighting to notice how much they actually like each other.
Tom e Mary têm estado ocupado demais brigando para notar o quanto eles realmente se gostam.
Tom is fighting cancer.
Tom está lutando contra o câncer.
He fought against racial discrimination.
Ele lutou contra a discriminação racial.
He fought a last-ditch battle.
Ele lutou num último esforço desesperado.
Conjugação do verbo irregular Fight.
Infinitivo: Fight
Terceira Pessoa: Fights
Forma no Gerúndio: Fighting
Passado Simples: Fought
Passado Particípio: Fought
Outras informações:
Transcrição Fonética de Fight: /ˈfaɪt/.
Fight possui 5 letras.
Palavras relacionadas com Fight:
Aught
Backlight
Basnight
Bauknight
Benight
Bight
Leia também: O que significa fighter em inglês?
Se você curtiu este material sobre o que Fight significa em inglês não esqueça de curtir e comentar, ou se você já conhecia este vocábulo.