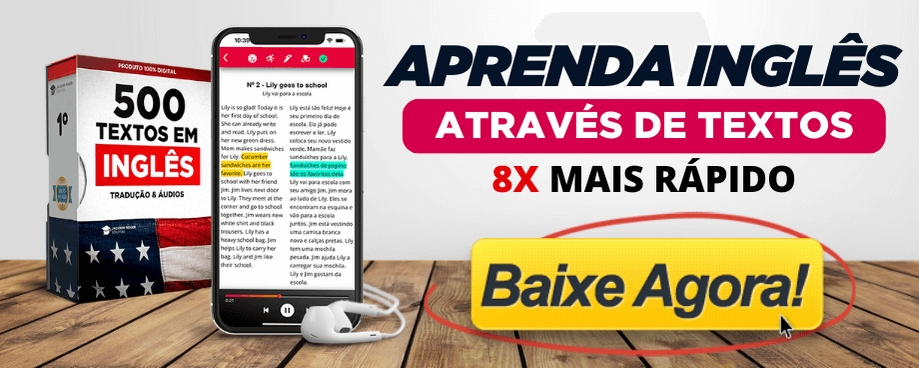 Definição de "During" em inglês:
A palavra During em inglês significa "No decorrer, Durante". "During" é uma preposição na língua inglesa (preposition). E para você entender o uso de During no inglês, as preposições são usadas para conectar uma palavra na outra. Por isso "During / "No decorrer, Durante" é uma preposição, pois consegue ligar uma palavra na oração.
Exemplos de "During" em frases:
The guillotine was widely used during the French Revolution.
A guilhotina foi amplamente utilizada durante a Revolução Francesa.
It was during the ice age that the saber-toothed tiger became extinct.
Foi durante a era do gelo que o tigre dente de sabre foi extinto.
Austin kept silent during dinner.
Austin ficou em silêncio durante o jantar.
John died during surgery.
John morreu durante a cirurgia.
He got sick during the trip.
Ele ficou doente durante a viagem.
Our son died during the war.
Nosso filho morreu durante a guerra.
They talked during the movie.
Eles conversaram durante o filme.
He kept silent during the meal.
Ele se manteve silencioso durante a refeição.
He was asleep during the lesson.
Ele estava dormindo durante a aula.
She's sleeping during the movie.
Ela está dormindo durante o filme.
I injured myself during PE class.
Machuquei-me durante a aula de educação física.
There is no school during August.
Não tem aula em agosto.
Bears hibernate during the winter.
Os ursos hibernam durante o inverno.
Behave yourself during my absence.
Comporte-se durante minha ausência.
I had a good time during the trip.
Me diverti durante a viagem.
Outras informações:
Transcrição Fonética de During: /ˈdɝɪŋ/, /ˈdjʊɹɪŋ/, /ˈdʊɹɪŋ/.
During possui 6 letras.
Palavras relacionadas com During:
Advertising
Advising
Advocating
Affecting
Affiliating
Affining
Leia também: O que significa dwell em inglês?
Responda abaixo, isso é importante, se você gostou desta dica sobre o que During significa em inglês ou se você já conhecia este vocábulo.